This article provides an overview of organizational deployment for the Inspire Microsoft Teams application.
Before individual users may install the Inspire application from the Microsoft Teams App Store, an Administrator must complete the following steps to ensure the app is available.
Loading the Inspire Microsoft Teams App
1. From the Microsoft Administration Portal (https://admin.microsoft.com) choose Teams.
2. Click on Team Apps and then select Manage Apps.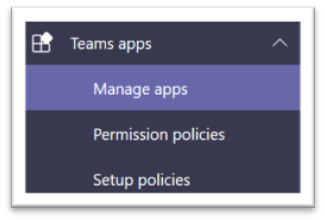 3. Select Upload new app from the Manage Apps toolbar and then select the InspireBot-Production.zip file (provided during customer on-boarding).

4. Users will now be able to install the Inspire application via the Microsoft Teams App Store. For more information on this process, see Integrating and Using Inspire within Microsoft Teams.

Granting Consent
Once the Inspire Microsoft Teams app has been installed, when each user accesses it for the first time, they will be met with a Permissions Requested prompt.
There are three options for handling these requests on an organizational level:
Trust each user to individually accept the request: Once the request has been accepted, the user will not be prompted again. In this scenario, if a user clicks Cancel, the login process will end and they will be prompted to grant access on their subsequent login.
Have an Active Directory Administrator accept the request: When an Active Directory Administrator for your organization first logs in to the Microsoft Teams App, they will be met with a modified version of the Permissions Requested pop-up that includes an option to Consent on behalf of your organization. If the Admin accepts this request, individual users will not see the Permissions Requested prompt and will be able to log in directly.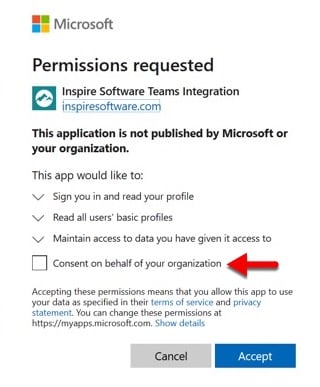 Provide Organizational Consent: By following the steps below, permission can be granted on an organizational level, disabling the Permissions Requested prompt for all users.
From the https://admin.microsoft.com portal, click on Azure Active Directory.

Select Enterprise applications.

Select All applications (usually selected by default).

Locate the Inspire Software Teams Integration application and click to open.

Under Security, click Permissions.

In the Permission section, select the option to Grant admin consent for <your organization name>.

You will then be taken through the application flow and met with the Permissions requested, Accept for your organization prompt.

Click Accept to universally accept the request for your organization's users. New users will no longer see the consent prompt when initially logging into the Inspire Microsoft Teams application.
To verify permission, refresh the Permissions Tab to reveal the permission granted.