At the end of each performance cycle, Inspire's appraisal process allows employees and their supervisors to review the progress made over the previous period, examining areas of excellence and identifying where additional progress can be made. This process is marked by a number of stages:
Employees complete a self-assessment and submit it to their supervisor.
The supervisor reviews the employee self-assessment and completes an appraisal.
The supervisor submits the appraisal for Human Resource approval.*

An Inspire Human Resource Administrator approves or rejects the appraisal.

If the appraisal is approved, the supervisor is notified and can complete the final steps in the process with their employee.
This article provides guidance for Human Resource Administrators on how to review, approve, or deny a performance appraisal.
Note 1: Not all organizations will require a Human Resource Administrator to review performance appraisals. This step may be enabled or disabled by a Performance Administrator. To enable or disable HR Review, see this article.
Note 2: You must be an Inspire Human Resources Administrator to approve or reject an appraisal.
How to Review, Approve or Reject an Appraisal
1. Click the Modules

menu and select Reports.
2. On the left side of the page, expand the Performance section.
3. Select Completion Status to open the report.

4. Click the numerical hyperlink for Participants Incomplete in the HR Review Cycle Step.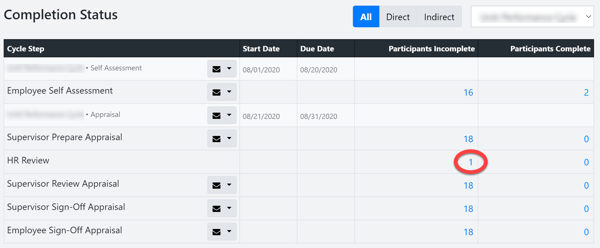 5. All appraisals that have been submitted by supervisors and need approval will display on this page. You can find an employee by typing their name in the search field.

6. To open an Appraisal for review, click an employee's name.

7. Review the Appraisal, and then click Approve or Reject.
Approve: Click the Approve button if the Appraisal is satisfactory. There is no further action needed from the HR Administrator.
Reject: Click the Reject button if the Appraisal is not satisfactory. You will then be prompted to enter remarks about why the appraisal is being rejected. When you have finished entering your remarks, click the Confirm Rejection button.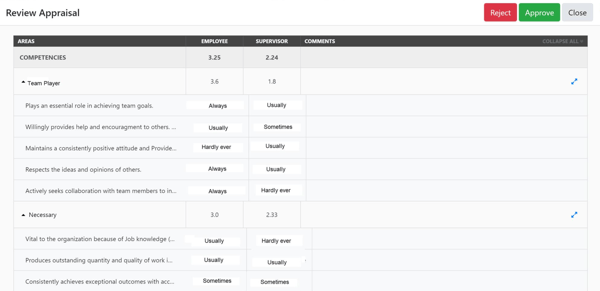 Note: If you reject an Appraisal, it will be sent back to the supervisor to edit and resubmit. Once the Appraisal is resubmitted, it will need to be reviewed and approved.